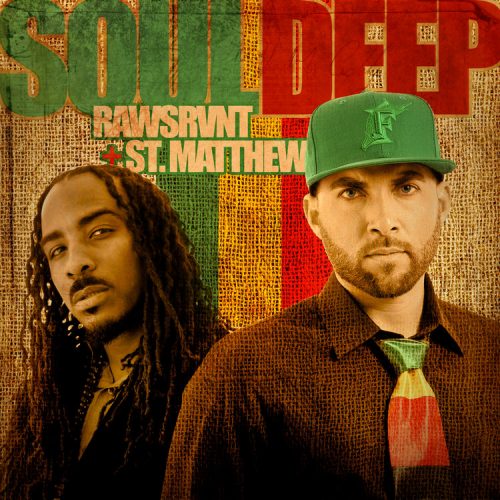 These days, some of the most popular music is built upon "dream team" collaborations of artists from different genres, geographies, or camps.
So it is with much delight that Soul Deep and Readyback Records, in association with Lion of Judah Sounds (DJ Frost/Monty G), announce that Hip-Hop Worship artist Rawsrvnt has teamed with Jamaican reggae star St. Matthew for a hybrid EP called Soul Deep that fuses both of their individual sounds.
The project also carries the momentum of one of its key tracks, "The Almighty," winning an En Sound Music Award for Best Gospel Reggae Song.
Rawsrvnt met St. Matthew while visiting Jamaica on a missions trip. The two instantly clicked and linked up soon after to record the song "The Almighty" for Rawsrvnt's Love Deluxe album. Shortly after that release the duo reunited in Kingston, JA to film a music video for the cut.
"Part of my goal as an entertainer and music missionary has been to create great music that appeals to the masses and shares the love of Jesus," Rawsrvnt said. "By partnering with St. Matthew we can add an international, island vibe to that mix and attract even more people to this life-changing message."
Tracklist:
1. The Almighty
2. Love
3. Forever
4. Won't Stop
5. The Almighty (Dub Version)
Listen and share it now on all major digital outlets (Apple Music, Spotify, YouTube, etc.).